Best Alternative Browsers Based on Google Chrome :-
Personally i am big fan of Google chrome due to it,s speed , Sanboxing and Google cloud print feature. However Google Chrome is based on the open-source Chromium browser project. Anyone can take Chromium's source code modify it to build their own browser. For any reason if you don't want to use Google chrome then try these best alternative browser's based upon Chromium browser project.
1. Comodo Dragon :-
Comodo Dragon is a Chromium technology-based Browser that offers you all of Chrome's features PLUS the unparalleled level of security and privacy you only get from Comodo. Including a greater level of privacy than Chromium technology offers. I really loves Comodo dragon due to it,s secure DNS feature. but i am missing Google cloud printing here.
Features:-
Improved Privacy over Chromium
Easy SSL Certificate Identification
Fast Website Access
Greater Stability and Less Memory Bloat
Incognito Mode Stops Cookies, Improves Privacy
Very easy to switch from your Browser to the Dragon.
Check this one  :- What is DNS Cache Poisoning
 2. Torch Browser :-
Torch Browser is a Chromium-based browser with enhanced functionality for the users that use the Internet mainly for finding and downloading multimedia files. It is designed to make your browsing experience smooth and to avoid using multiple programs for the regular tasks.
The main window of the application provides you with a familiar browsing interface and allows you to quickly access the enhanced features from the address bar buttons. Some of the functions such as the media content downloader are only enabled on the pages that contain relevant content.
You can use the Share button to quickly access your Facebook or Twitter account and post a message about the current page. This tool allows you to share your favorite pages and media files without leaving the current page or using an extension.
Check this one :- How to Download videos from any website for Free
3. SRWare Iron :–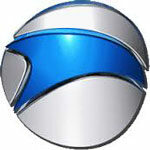 SRWare Iron is an easy-to-use web browser designed to offer an improved alternative to the well-known Google Chrome. It provides its users with the same features as Chrome, but it eliminates some privacy and security problems.
What makes SRWare Iron different from Chrome is solving some privacy issues. For example, the submission of entries or failure details are not transmitted to Google, like it happens in the case of Chrome. In addition to this, this browser can disable functions such as the URL-Tracker.
Other than that, SRWare Iron is a tool that has been packed with a lot of features designed to offer a pleasant browsing experience. Its looks are very similar to Google Chrome's, since they both stem fromt the same sourcecode (Chromium). Customization can be done through various themes and colors.
4. CoolNovo :-
CoolNovo (formerly ChromePlus) is enhanced Google Chrome browser based on the safest browser kernel – Chromium, using Safe Browsing and Sandboxing to protect you from suspect sites.
CoolNovo has all the functionalities that Google Chrome has. The browser added some useful features such as Mouse gesture, Super drag, IE tab, etc. Meanwhile, CoolNovo is free with no function limitation and you can use CoolNovo to surf the internet in any case. No malware inside. CoolNovo puts you in control of your private information while helping protect the information you share when you're online. It can automatically translates a page to your language while browsing. CoolNovo uses cloud switch between Webkit kernel and IE kernel while browsing different types of sites.
CoolNovo also enable you to custom your own mouse gestures. You can use super drag to open a link or search selected text super easily. You can double click tab to close page. This browser fills out forms faster on all your computers.
Enjoy these best alternatives.
Hope you like my post.Best Alternative Browsers Based on Google Chrome. Please share with others.
Also Check :-
Fix Google chrome updates are disabled by the administrator
Use Google Chrome as Penetration Testing Tool
How to Speed Up Google Chrome Web Browser
Open Your Local File With Google Chrome
How to Troubleshoot Google Chrome Crashes