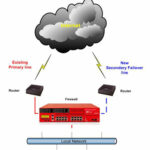 How to Configure WatchGuard Firebox XTM for WAN Failover :-
Multi-WAN Failover facility of Firebox XTM is giving the functionality to network administrator to use Multi ISP network. In normal words, if your company main network is going down for any reason then it will automatically switch to other ISP network.As a Network administrator, i really loves this feature, because previously i have very bad experience with Cyberoam Firewall. In cyberoam i have to switch manually to other link, but in Firbox XTM, it's automatic switch to other available ISP as per you duration's defined.
Presently i have one Primary link from Sahara ISP ( DIA)  and other link from STC ISP ( DSL Connection )
I recommend you to first check my article How to Configure a WatchGuard Fireware XTM Device Interfaces .
In my present topology, My external interface is connected with Sahara ISP and i want to use one port for STC ISP. Make sure you connected your Secondry ISP router with WatchGuard optional port.
Open WatchGuard System manager (WSM ) on your management PC and connect with your Firebox XTM device.
In WatchGuard System manager, Open Policy manager and Click on the Network and select the configuration.
Now click on the Interfaces , select your Optional port and click on the Configure and in the select interface settings option, select the " Use PPOE " option and enter your PPOE username and Password here and click on OK.
now in the network Configuration option, select the Multi-WAN tab, here you have to select Failover in Multi-WAN configuration option and click on the Configure to configure the link.
In Link-Monitor tab, you have the option to monitor your link interval. Enable the option Ping in Monitor External by and define the IP-address of any all time available server. Like here i defined the Google dns address for link monitoring.
Leave the " Use these setting for external " default.
after clicking on the configure option in Failover, you have the option to move up and down your interfaces here.
Your Multi WAN-failover configurations done. 🙂
Now you have to save your configurations on Firebox device.
Enjoy your uninterrupted internet on your Network.
Hope you like my post.How to Configure WatchGuard Firebox XTM for WAN Failover. Please share with others.