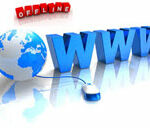 Download An Entire Website For Offline Reading :-
If you are Penetration tester , Hacker or IT geeks, it,s always a god idea to work on offline version of a website instead of work on online site.The copied website will include all the pages, links, pictures and code from the original site.
In this condition we may actually use a tool called HTTrack. HTTrack Web Site Copier is an Offline browser utility that allows you to download a World Wide Web site through the Internet to your local directory.
Download and install HTTrack tool. Now click on the Next.
now put your Project Name and click on the next.
now in Action menu select Download web site(s) and then enter your Web Address (URL) .
now click on the Set options, Now in the Scan Rules option select the file extensions that you want to download.
now click on Finish.
Now it will start you copying
Now it will take time to download entire website. it,s depend upon website size. After Mirroring operation complete, you have the option to Browser Mirrored Website.
For this tutorial, i mirrored my one another website www.rumyhacktips.com . Now click on the browse Mirrored Website to access offline site.
as you seen in above image, open site is opening from local computer instead of www.
Enjoy Complete website for offline reading and penetration testing.
Also Check :- How to Save Web Pages for Offline Reading
Hope you like my post.Download An Entire Website For Offline Reading. Please Share with others.