Find Out if Your Computer is Infected with a Bot :-
Bot-infected computers, or bots, are programs that are covertly installed on a user's machine in order to allow an attacker to control the targeted system remotely through a communication channel, such as Internet relay chat (IRC), P2P, or HTTP. These channels allow the remote attacker to control a large number of compromised computers over a single, reliable channel in a botnet, which can then be used to launch coordinated attacks.
Bots allow for a wide range of functionality and most can be updated to assume new functionality by downloading new code and features. Attackers can use bots to perform a variety of tasks, such as setting up denial-of-service (DoS) attacks against an organization's website, distributing spam and phishing attacks, distributing spyware and adware, propagating malicious code, and harvesting confidential information that may be used in identity theft from compromised computers—all of which can lead to serious financial and legal consequences.
McAfee has created a nice easy-to-understand Infographic explaining, what are botnets. With the rapid growth in malware and bot infections all around, it becomes important for all to understand what Botnets are and what Zombies are.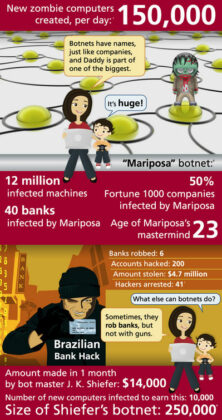 Tools to Detect Zombie Bot Malware Infection on Windows Computer :-
1.  DE-Cleaner powered by Avira
DE-Cleaner is a free service initiated by the Association of the German Internet Industry to increase the awareness of the user's computer being a part of botnets.
2. DE-Cleaner powered by Kaspersky
DE-Cleaner powered by Kaspersky is actually the same as Kaspersky Virus Removal Tool or simply known as AVPTool with a German language interface. Unlike Avira De-Cleaner, Kaspersky De-Cleaner doesn't have an online update so you'll have to download the latest version from their website if you need an up-to-date version.
3. RuBotted
RuBotted is a free bot infection monitoring tool created by Trend Micro that is very easy to use with zero configuration or knowledge required. Simply download, install and allow the program to run automatically during Windows startup which will sit quietly in the notification area monitoring your Windows system.
4. Mirage Anti-Bot
Mirage Anti-Bot is created by Jean-Pierre LESUEUR, the founder of Phrozen Software and is also the creator of DarkComet RAT. Basically Mirage Anti-Bot uses the Windows HOSTS file to prevent you from connecting the known command and control servers. The list of known bad URLs are downloaded from abuse.ch that tracks ZeuS, SpyEye and Palevo C&C servers. Other than that, PhrozenSoft also has their own global database and you can also add custom new host.
Enjoy Bot free windows computer.
Hope you like my post.Find Out if Your Computer is Infected with a Bot. Please Share with others.