Fix WordPress categories are not working :-
WordPress is one of the most used CMS ( Content management system ) used for blog or website development. In blog, blogger are using categories to divide the topics. Like in my case my blog have six categories named Cisco ( For Cisco articles ) , Windows ( For windows related articles ) Internet ( For all kind of Internet related tricks ), Backtrack ( For Backtrack , Ubuntu and Kali Linux tricks ) and Photoshop ( For graphical editing on Photoshop ).
Recently i faced a problem in my categories, whenever i am clicking on my any categories then it,s going to be 404 error page. 🙁 ( Check my article How To Create A Custom WordPress 404 Page ) it,s really frustrating.
Don't worry, You can easily fix this problem with changing Permalinks. Changing permalinks doesn't mean you have to change your permalink permanantly. just switched to the other permalinks then again activate your old permalinks.
Open your WordPress dashboard and navigate to Settings > Permalinks .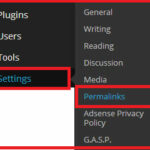 Like in my case i am using post name settings and to fix this problem i just choose the Numeric option save the settings. After few minutes i again activate my old post name settings.
Now my WordPress categories are working fine. 🙂
Also Check :-
WordPress SEO Tips to Increase Search Traffic
How to Setup MaxCDN With WordPress W3 Total Cache Plugin
How to add Google Analytics to WordPress
How to add Facebook comments to WordPress
Hope you like my post.Fix WordPress categories are not working. Please Share with others.