How to Allow ICMP traffic through pfsense firewall :-
pfSense is a free, open source customized distribution of FreeBSD tailored for use as a firewall and router. In addition to being a powerful, flexible firewalling and routing platform, it includes a long list of related features and a package system allowing further expandability without adding bloat and potential security vulnerabilities to the base distribution. pfSense is a popular project with more than 1 million downloads since its inception, and proven in countless installations ranging from small home networks protecting a single computer to large corporations, universities and other organizations protecting thousands of network devices.
By default you cannot ping a pfsense firewall. You need to add a rule to allow it.
Open your pfsense GUI interface , Navigate to Firewall > Rules
now add a rule Action : Pass , Interface : WAN , Protocol : ICMP , Source Type : Any and Destination : WAN address .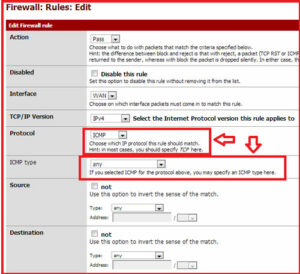 then click on the Apply changes to apply the rule.

Now it will create a new rule entry for ICMP traffic.
Now you are able to ping pfsense firewall.
hope you like my post.How to Allow ICMP traffic through pfsense firewall. Please Share with others.