How to Backup WordPress Sites to Dropbox  :-
Dropbox is one of the most used cloud storage service that i am using for my sharing files between multiple systems . i personally use Dropbox to store my websites data and files backup.
Today i am going to show you how to backup WordPress sites to Dropbox with these three free plugins.
1. WordPress Backup to Dropbox Plugin  :-
WordPress Backup to Dropbox is a free plugin that allows you to backup your WordPress website on a regular basis. The plugin's simple interface lets you setup your backup cycle in minutes giving you peace of mind that your precious blog posts, media files and template changes are backed up.
In order to use the plugin you will need a Dropbox account. Dropbox is a free service that lets you bring your photos, docs, and videos anywhere and share them easily.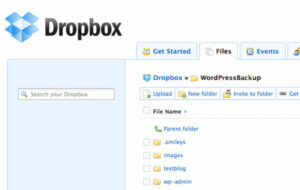 2. UpdraftPlus WordPress Plugin :-
UpdraftPlus WordPress Plugin is a Easy and complete backups + restoration Plugin for Manual or automated backups solution.
with UpdraftPlus , you can storge your website backup file in Amazon S3, Dropbox, Google Drive, Rackspace, FTP, SFTP, WebDAV, email + others .
3. BackwpUp WordPress Plugin :-
Just like UpDraftPlus, the backup plugins has support for local and remote backups . In addition to supporting standard destinations like FTP, Dropbox and Amazon, this plugin also supports Rackspace, Google Drive, MS Azure and Sugar Sync.
Enjoy Your WordPress website backup with Dropbox.
Hope you like my post.How to Backup WordPress Sites to Dropbox . Please Share with others.