How To Create A PDF Slideshow With Photoshop ?
Pictures are on of the most memorable thing in your life. Creating slide show with your pictures is really interesting. Photoshop comes with the one handy tool for this purpose.
Today i am going to show you  How To Create A PDF Slideshow With Photoshop .
I am using Photoshop CS6 for this job however other old version is also supporting this feature.
Lets Start. Open your Photoshop. then Go to File Menu > Automate option and Select the PDF presentation option.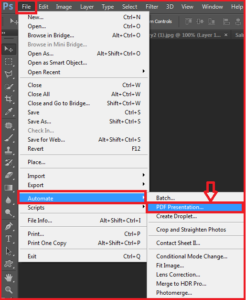 Now Select the Presentation option. Choose your Background color from the Background menu. With include option you are able to add your Title, File name, Author description & Copyright information. then click on the Browse option to choose your pictures.
Now click on the Save option. Now Click on the Save PDF option to save your slides as PDF.
With Security Menu, you are able to put the password and other Restriction on Printing, Editing and other task.
Now your PDF slideshow is ready for your use.
Enjoy your PDF Slideshow.
You may also like :-
Match Colors Between Images in Photoshop
How to Remove Watermarks from PDF or image Files
Improve the quality of a picture in easiest way
How to check a picture has been Photoshoped or not
Hope you like my post.How To Create A PDF Slideshow With Photoshop. Please Share with others.