How to Defend against Crypto Locker malware :-
Crypto Locker hit the headlines recently. An example of ransomware ( a particularly unpleasant form of malware ) ,
When your PC has been infected with crypto ransomware, all your documents, videos, images and other personal files are encrypted. This encryption prevents you from opening them, whether they are on your pc, connected drive or business network. You see a message stating you need to pay a certain amount of money (the ransom fee) to gain access to your personal files again. Payment typically has to be done via Bitcoins or prepaid cards from MoneyPak or Ukash.
it's look like below image.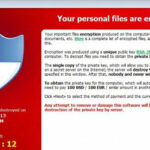 Today I am going to show you How to defend against Crypto Locker malware criminal activity .
1. Update your OS and Antivirus Regularly :-
Ransomware works by installing itself on your PC, so be careful what you download, don't click any dubious links and don't open suspicious email attachments. Make sure you have Good anti-virus software installed, and be sure it's running and up to date to minimize the risk of infection.
Related articles :-
2. Keep Backup :-
When a ransom demand appears, it's too late 🙁 Your file are encrypted. Even removing the ransomware can't save your data, so regular back-ups are essential. EaseUS Todo backup Free helps these in advanced.
EASEUS Todo Backup Home is a full-featured backup solution that can create copies of your for files, partitions, disks or even the whole system and recover them in the event of a system crash or infection.
The interface is clean and well-organized, providing easy access to all the features. The 'Home' tab is where you can find all the backup and recovery options or clone disks and partitions.
Creating a backup job is very easy, even if you are not an experienced user. Depending on what you want to backup, the process takes longer or less time. For instance, during the tests, the system backup was over after approximately 13 minutes.
After the backup process is complete, you can run an integrity check on the resulting backup image. All the backup tasks can be managed easily within the 'Management' section, which means you can modify a plan and apply the changes instantly, remove image files or run previously created tasks.
Related Articles :- 
3. Use Cloud Storage :-
Personally i am using the DropBox cloud Storage to store my files.  With Cloud storage, you are not going to bind own-self with one PC. There are lots of Cloud storgae services  like DropBox , mega.co.nz , google drive and Skdrive etc.. that are really providing really nice solutions to keep your files safe in cloud.
Related Articles :-
5. Use CryptoPrevent utility :-
CryptoPrevent is a tiny utility to lock down any Windows OS (XP, Vista, 7, 8, and 8.1) to prevent infection by the Cryptolocker malware or 'ransomware', which encrypts personal files and then offers decryption for a paid ransom.
Incidentally, due to the way that CryptoPrevent works, it actually protects against a wide variety of malware, not just Cryptolocker!
7. Use Hitman pro utility :-
HitmanPro's CryptoGuard is a universal solution against crypto ransomware. This type of ransomware encrypts your personal files and demands a ransom fee to be paid in order to regain access to your files.
HitmanPro.Alert's CryptoGuard technology does not try to detect the malware based on its static properties, but it detects crypto-ransomware based on its file system behavior. If suspicious behavior is detected, it is then blocked (the encryption of the files) and the malware is neutralized, without the need for any user intervention.
What do you see when your files are under attack?
On workstations, when CryptoGuard intercepts an attack on your personal files, it displays an Alert message as shown below:-
The following video illustrates a CryptoLocker ransomware attack on a workstation and how CryptoGuard can protect your files.
8. Use Bitdefender Anti-CryptoLocker :- 
There are numerous types of malware that can infect your computer and the damages some of these can do to your PC can only be removed by reinstalling Windows. Alternatively, you can prevent your computer from getting infected in the first place by installing a dedicated app such as Bitdefender Anti-CryptoLocker.
The application was developed especially to block the damages made by the ransomware CryptoLocker.
This custom type of malware gets installed on your computer and starts encrypting files on your local drives, as well as network shares, then asks you to make a payment in order to decrypt them. The payment is typically processed via a service that is very hard to track (such as Bitcoin) so you have no chance of recovering your money.
Enjoy your PC without Crypto Locker.
Hope you like my post.How to Defend against Crypto Locker malware. Please Share with others.
Also Check :-
Remove virus from most infected computers
How to check a Website for a Virus