How to Enable Video Streaming in uTorrent :-
uTorrent is one of the most popular BitTorrent clients out there for several reasons: it's fast, lightweight, easy to use and very efficient. In my previous article i wrote about  Search Multiple Torrent Engines At Once and How to Spot Fake Torrent Files .
To watch anything online, you have two options. Either play from a streaming site directly or look for any torrent file and play it using this method.
uTorrent client is comes with a feature of video streaming means in the time of downloading your videos you can easily watch your video files. it will also help you to identify fake torrent files and video quality.
In uTorrent, go to the Options > Preferences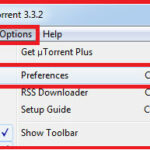 now select the Playback option and choose any default player or with browse menu you can also choose the vlc player.
now you have streaming option in your download
it will take some time for streaming
it will play your movie.
Enjoy your video streaming in utorrent.
Hope you like my post.How to Enable Video Streaming in uTorrent. Please share with others.