How to Schedule Auto-Shutdown in Windows ?
Suppose, your Antivirus software is scanning your computer or you are downloading or installing a program. You know that it will take some time but you cannot wait for it to finish, so you can shutdown your computer. This is where a program called Auto-Shutdown comes in. You just set the time at which you want your computer to shutdown and it will shutdown automatically at your chosen time.
Today i ma going to show you How easily you schedule your shut-down your PC with these free Auto-shutdown tools.
1. WinMend Auto Shutdown
WinMend Auto Shutdown is one of the many apps on the market developed to turn off the computer at a user-defined time.
As compared to the other similar products out there, WinMend Auto Shutdown can only shut down the system, log off the user, enter sleep mode or hibernate, offering just the essential options to configure these tasks.
2. Shutter
Shutter is a program that gives you access to several power management controls. The user interface of the application consists of a small, standard window. Shutter can be used by both novices and experienced individuals.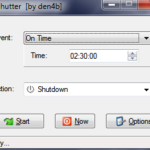 3. Wise Auto Shutdown
Wise Auto Shutdown helps schedule PC to shut down, log off, restart, sleep, and power off at any time (daily, at a specified time, or some time later). After a task is set, Wise Auto Shutdown will run in the background and a double-click will get its main interface back from the tray to the desktop. Certainly, Wise Auto Shutdown will remind you of your choice five minutes before it carries out its automatic task.
4. Windows Reboot
Windows Reboot is a program designed to help you shut down the system at a specified time.
Hope you like my post How to Schedule Auto-Shutdown in Windows. Please Share with others.