How To Send Online Fax ?
I have decided to reduce my paper usage this year. Going green is an excellent idea since your initiative actions will be benefited to your environment as well. If you are student or Home user and you don't want to buy fax machine. Then send online fax is really helpful for you.
Today I am going to show you How to send fax online.
Hellofax is really good service for sending fax. but if you want own fax number then you need to buy online fax number from hellofax.com. Create your own account or use your Google account to login. You can drag or drop your files or upload your files from popular cloud services. you can send fax to fax number or email address.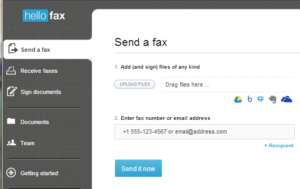 hello fax is providing support for following countries list
MyFax is an award-winning Internet fax service that lets you send and receive faxes through your email, the web, or smart phone. A MyFax number is a real fax number. MyFax offers toll free and local fax numbers at no additional cost.MyFax requires no hardware or software. All you need is Internet access, an email address, and a MyFax account.
Using GotFreeFax is about as easy as it gets. Just enter your information as the sender, enter your recipient's information and Fax number, and then either upload a PDF or DOC file, or paste your email (which can even include formatting) into the rich text box.
4. FaxZero
FaxZero is, as the name implies, a zero-cost solution to send a fax from what is essentially an online email, where you can type the sender, recipient, and the text message into the text box – or you can attach a document. It's one of the fastest and easiest ways to send an email to a fax machine.
Enjoy your online fax services.
Hope you like my post.How To Send Online Fax. Please Share with others.