Manage your Android from a web browser, all over the air :-
Airdrop connects your Android phone or tablet to your PC wirelessly. You can then manage the files on your phone, uninstall apps, and even play music and videos that's stored on your phone, all from your PC's browser and send links directly to your device.
1. Install the app. Go to http://web.airdroid.com/ and login with your Google account.
Now Open your Apps
Now navigate to user and enter your credentials
Now you are able to send your files from wirelessly connect PC and Android. Now in your PC browser you have details of your android device and you can easily drag and drop your files.
Desktop SMS :- Send & receive SMS via your current carrier from the comfort of your computer. Faster typing and navigation with the full keyboard and large screen.
Find Your Phone :-  If you lost your phone, you can easily find with find phone option. it will show your phone Geographical location
Create Contact :- You can easily create a new contact and modify your existing contact.
Manage Ringtone :- You can easily manage your mobile ringtones from your PC.
Manage Your Apps :- You can easily manage your installed apps with Airdroid. You can install the apps from the browser menu and even remove the apps from android device.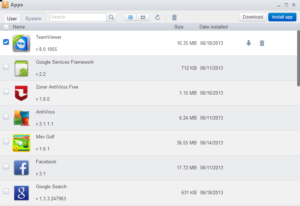 Files and Media :- 
Move photos, videos, ringtones and any other files on and off Android, all without a USB cable.
Also Check Topic on Android :-
Manage your Android phone from your computer
Access Your Computer From Android With TeamViewer
How to keep Android Clean and Fast
How to Find Your Lost or Stolen Android Smartphone
Use all 750000 Mobile Android Apps on PC or Mac
How to Install Android 4.0 (Ice Cream Sandwich) In Virtualbox
Turn your Computer or Android Device into a Mosquito Killer device
How to Print From an Android Phone
Use Your Android Phone as a Portable Wi-Fi Hotspot
Hope you like my post.Manage your Android from a web browser, all over the air. Please Share with others.