Printing with correct color in Photoshop :-
Most of the time what color you are seeing on the screen is not comes the exact color on the print.it,s showing off color. because printers , scanner and projectors are manufactured from different-different companies and they are using different-different color management for their products . They are not seeing all color as a same.
But Photoshop have inbuilt feature of Color Settings to control all this things. it,s not giving you 100% accuracy but it,s more accurate.
In Photoshop, the Color Settings dialog box (found under the Edit > Color setting) allows you to configure the options for how Photoshop will handle color. You should become familiar with these settings and check them periodically to make sure you have the ideal configuration for your particular needs.
The most important setting is the Working Color Space selection . A color space is a mathematical description of all the colors possible in an image or for a given output device. A Working Color Space defines how the numeric color values in your image file are represented visually. Generally, photographers and artists working with RGB documents need only to be concerned with the selection of the RGB Working Space. The options are:
Adobe RGB (1998):- the most commonly used RGB working space, Adobe RGB (1998) is a relatively large color space and is best for photos that will be printed in CMYK offset. If you're sending files to a printer, you will usually want to use Adobe RGB (1998) unless the printer specifies otherwise. Also, if you are preparing files that you intend for multiple types of output – or you don't know how the file will be printed – use Adobe RGB as it's the most flexible working space.
Make your settings like below image.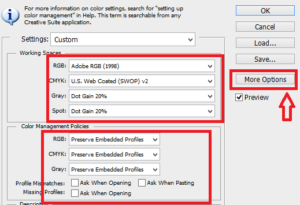 then click on the More options and left the settings as default and save your settings.
Now when you print from Photoshop. you will get the correct color settings.
Also Check :-
How to create a Photo-cube in Photoshop
Best Way to Change Color in Photoshop
How to create a Billboard and Graffiti effect in Photoshop
Hope you like my post.Printing with correct color in Photoshop. Please Share with others.