Protecting yourself from malicious websites :-
Hackers have intention to spread malwares , Trojan and other malicious code via their malicious website to get access of your valuable information. rally it,s not easy to find out malicious website. it,s look like original website. Today i am going to show you How you can Protect yourself from malicious websites.
1. Web Of Trust
WOT displays a colored traffic light next to website links to show you which sites people trust for safe searching, surfing and shopping online: green for good, red for bad, and yellow as a warning to be cautious. The icons are shown in popular search engine results, social media, online email, shortened URL's, and lots of other sites
2. McAfee SiteAdvisor
SiteAdvisor software is an award-winning, free browser plug-in that gives advice about Websites before you click on a risky site.
3. ScanURL.net
Check website or URL/link safety: reports of phishing, hosting malware and viruses, or poor reputation.
it will show you all statics about particular website
Sucuri SiteCheck is a remote website malware scanner we built and offer to website managers across the interwebs, for free.
it will show you all report about particular website.
Website Scanner from COMODO. Site Inspector is a websitevulnerability scanner online.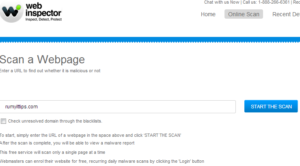 6. AVG ONLINE WEB PAGE SCANNER
The AVG LinkScanner® Drop Zone lets you check the safety of individual web pages you are about to visit. You may have received a suspicious link in an e-mail — just copy the URL (web page address) and drop it into the box below. LinkScanner® will examine the web page against 30-day domain threat history reports to see whether it's hiding any suspicious downloads. Even innocent web sites can contain hidden "drive-by downloads". Use the AVG LinkScanner® Drop Zone to inspect:
VirusTotal is a free service that analyzes suspicious files and URLs and facilitates the quick detection of viruses, worms, trojans, and all kinds of malware.
Hope you like my post.Protecting yourself from malicious websites. Please Share with others.
Also Check :-
Encrypt your Live Chat with Cryptocat
How to encrypt your cloud storage for free
Send notes that will self-destruct after being read
How to Stop Trackers From Tracking You Online
How to always start Google chrome in Private browsing mode
Hide your Real IP Location and Browse Anonymously