Online Virus Scanner :-
If you are thinking your present antivirus is not providing the complete solution, then no need to worry about it. There are lots of free online virus scanner are available that are providing really good protection.Runs in a week and enjoy virus free computer.
Today i am going to Show you list of best online virus scanner.
1. ESET Online Scanner
Scan your PC to detect and remove malware, viruses, and spyware in one click. Free download with no registration required.
Online Virus Scanner
One-time scan
On-demand
Manual process
Detects and removes threats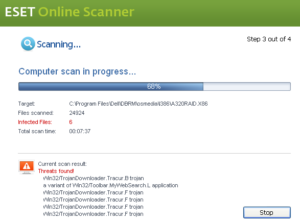 2. HouseCall- Free Online Virus Scan
HouseCall is a free virus scanner offered by Trend Micro, which checks whether a computer has been infected by viruses, spyware, or other malware.
HouseCall is Trend Micro's highly popular and capable on-demand antivirus software scanner for identifying and removing viruses, trojans, worms, unwanted browser plugins, and other malicious software.
It features an intuitive interface and the ability to perform fast scans that target critical system areas and active malware. It also leverages the Trend Micro Smart Protection NetworkTM to help ensure that scans catch the latest threats.
3. Bitdefender Free online Virus Scanner
Bitdefender Online Scanner is a free virus scanner powered by the award-winningBitdefender scanning engines. Scan your PC for the latest viruses   Bitdefender QuickScan uses in-the-cloud scanning technology to detect active malware on your system, in under a minute. Because it focuses on active e-threats, the product uses just a fraction of the system resources needed by a regular virus scan and requires no time-consuming virus signature updates, as the detection process is performed by remote Bitdefender servers.