Few have 2 new game for android users that are part of an addictive and challenging puzzle saga that is testing the player's skills of puzzling.
The saga is divided into two different but highly fun puzzle games, the bubble pop puzzle game and the match 3 puzzle game.  No matter which of these 2 games the players are playing, they will surely be thrilled by the HD graphics, amazing themes and cool sound effects as he solves the puzzles and progress in his puzzle adventure. With many different levels, surprises, bonuses and achievements, the players will enjoy puzzling and have fun in the fantastic puzzle lands.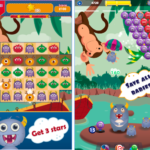 This saga and the two games offered on it has many interesting features that will get the player addicted to puzzling fast while giving him a chance to test his skills and win many achievements as he progresses. The Smoke Bubble is the first game offered on this saga where the player is enjoying the amazing and fun shooter puzzles.In Smoke Bubble, players need to shoot the bubbles and avoid the obstacles on their way in order to pass with their magic monster and go to the next level. With over 100 different puzzle levels and incredibly gorgeous themes in each level, players will enjoy shooting and solving each puzzle.
The Smoke Monsters is the second puzzle game offered on this saga where the player needs to match the cool monsters and characters to crush them and go to the next even harder puzzle level. This game is offering players the chance to win many bonuses in each level and discover amazing surprises as they play, and use the blast combos offered to get high scores and beat others. With collecting foamy stars in every level and winning all the special prizes, players can use those achievements to unlock even more interesting adventures and levels.
Download any of the puzzle games you want now on Google Play for free and have fun progressing in the fantastic lands!
Google Play Download Link 1: Smoke Bubble
Google Play Download Link 2: Smoke Monsters
CaxStudio Google Play Link: Smoke Bubble & Smoke Monsters
Official Website: Smoke Bubble & Smoke Monsters