How do I Fix Windows Problem with Event Viewer ?
Event Viewer is an advanced tool that displays detailed information about significant events on your computer. It can be helpful when troubleshooting problems and errors with Windows and other programs.
Open Event Viewer by clicking the Start button , clicking Control Panel, clicking System and Maintenance, clickingAdministrative Tools, and then double-clicking Event Viewer.‌  If you are prompted for an administrator password or confirmation, type the password or provide confirmation.
Today I am going to Show you How you can troubleshoot problem with Event Viewer.
Open Eventviewer > Goes to Windows Logs > Application Logs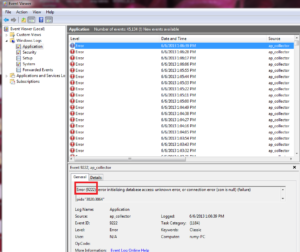 Now Open the http://eventid.net/ and enter the error number that i marked with redcolor in above pciture. It will Show you reason of problem in comment.
It,s Showing me Watchguard Firewall Log server is not configured ( i am using Watch Guard Log Manager on this Computer). Now resolve your particular problem.
Hope you like my post How do I Fix Windows Problem with Event Viewer. Please Share with others.