Running a successful webstore is not all about creating a website and adding products and sitting back as you wait for buyers to get you. You should be willing to invest in efficient marketing campaigns to draw their attention.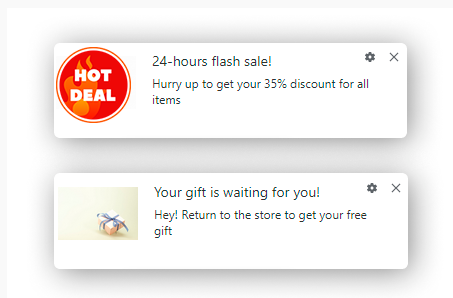 Now that you already have visitors flocking to your site, your job does not end there. You have to work on retaining them, and the easiest way to do is by providing excellent customer support. You cannot support buyers without communication, and this is where Magento 2 notification messages come in. It is time to shift from the traditional ways of doing things and turn your online store into an omnichannel. The notification messages feature comes with a range of fantastic benefits which include;
Helps you grow subscribers effortlessly
This tool gives you a chance to improve your site effortlessly. It gets even better if you have a channel for showcasing your products. The buyers can easily subscribe to the channel with a single click without much information required. The best part is that it allows you to send real-time messages to your visitors, which is also a way of improving customer service. Also, you can manually set the time for sending notifications, and this way; all the subscribed customers will get notifications at the same time.
Attract customers and retain the existing ones
With this feature, you can easily incorporate web push notification to notify your targets about any sales, promotions, and changes. They do not have to be on your site to know about these things. They will, however, get notifications on deals in real-time. This way, you can retain your existing customers by returning them to your store even after closing the tab. The notification system will generally help you drive sales and see your customers satisfied.
Create a unique marketing campaign
Marketing is, by far, the most challenging part of running a business. You need to come up with something that will attract your customers and remind them of you every time they want to buy a product that relates to what you are offering. While there are numerous ways of doing this, you cannot go wrong with push notifications. Creating one-time notifications will drive traffic to your store, especially when they learn about sales, discounts, and promotions. You can notify them instantly when the promotion starts. Also, you will have a chance to send short, customized messages to inform your targets about new products and services.
It is easier to reach specific groups
With Magento 2 notification messages feature, you can easily target particular groups. One of the aspects that make you a good seller is to understand that every customer has different needs. The persuasion language that works for one buyer might not work for the other. You should, therefore, come up with customized ways of persuading each of them to try your products or services. You can create a message for repeat customers and a different one for first-time visitors.
From these benefits, it is evident that Magento 2 notification messages are the key to increased sales. Add the tool to your webstore and get to enjoy these benefits and more.