How to Troubleshoot Google Chrome Crashes ?
Google Chrome is one of the most popular browsers these days, due to low foot-print and good performance. But there may be times when you find that your Chrome browser crashes or freezes randomly on your Windows 8 or Windows 7 computer, while browsing, opening a tab, loading a page or downloading. This can be really annoying at times!
Today i am going to Show you How to Troubleshoot Google Chrome Crashes.
Try restarting the browser :- 
Whenever possible, Google Chrome will restore webpages from your previous browsing session.
Do you have Internet Download Manager installed?
If you have Internet Download Manager installed, update to IDM version 6.15 Beta or disable the "Advanced browser integration" option by going to Options > General.
Check for conflicting software :- 
You can check for conflicting software on Windows by typing chrome://conflicts/ in the address bar. If you have software that is known to cause Google Chrome to crash, it will be highlighted for you on this page, along with any recommended actions to resolve the conflict. In many cases, the conflicting software is malware that needs to be removed using anti-virus software.
Disable Unsupported Plugins :-                                                                                              Open chrome://plugins/ and disable the unwanted plugins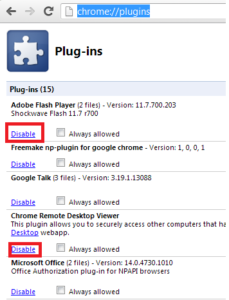 Check whether you need a new browser user profile :-                                                                If you see this error message repeatedly, your browser user profile may be corrupted. First try moving the Default subfolder from your User Data folder to see if that fixes the problem:
Enter the keyboard shortcut Windows key  +E to open Windows Explorer.
In the Windows Explorer window that appears enter the following in the address bar:Windows

Windows XP: %USERPROFILE%Local SettingsApplication DataGoogleChromeUser Data
Windows Vista/ Windows 7/ Windows 8:%LOCALAPPDATA%GoogleChromeUser Data

Mac OS X: ~/Library/Application Support/Google/Chrome/Default

Linux: ~/.config/google-chrome/Default

Click OK.
In the window that opens, rename the "Default" folder as "Backup."
Move the "Backup" folder from the "User Data" folder up one level to the "Chrome" folder.
Check for problems with protected system files :- 
Go to Start menu > Run.
Enter the following: sfc.exe /scannow (make sure there is a space betweenSFC.EXE and /SCANNOW). This initiates the Microsoft utility that will scan and repair problems with protected system files on your computer.
Hope you like my post How to Troubleshoot Google Chrome Crashes , Please Share with others. For more tips visit my other website www.rumyhacktips.com