Stop Your Friends Infecting You On Facebook :-
Social-media malware is becoming increasingly common on Facebook.
It spreads through infected links that people post on their friends' walls and in their own status updates. This, in turn, infects other people's News Feeds.in these day we seen the many porn videos and pictures are showing on the friends wall due to virus infection.
How to avoid infection:-
1. ESET Social Media Scanner
Secure 24/7 :-
ESET Social Media Scanner protects you even when you are not logged in. If an infection is found, you are notified by email and can take immediate action.
Protect yourself and your friends
The ESET Social Media Scanner also checks your friends' walls for potentially dangerous links. If malicious content is found, you will receive a notification.
Check my article Facebook security scan with ESET Social Media Scanner
Bitdefender Safego is a free app for your Facebook account. It protects you, and your friends from malware threats that attempt to exploit the trust you've built with them. Safego keeps you safe from all sorts of e-trouble, including scams, spam, malware, and private data exposure.
Safe social network
Privacy score
Protection against phishing attacks
3. Norton Safe Web for Facebook
Norton Safe Web will scan your Facebook news feed and warn you of unsafe links and sites. Don't fall victim to a LIKE-jacking scam, or worse a hacker's takeover of your profile. Know whether a link is safe before you click or share it with your friends.
4. Use Strong Password
If someone you know is sending spam from their email or social-networking account, they've probably been hacked. In most cases, this will be because they've chosen a weak password or used the same one for lots of sites.
Open http://passwordsgenerator.net/ and create 50 digit password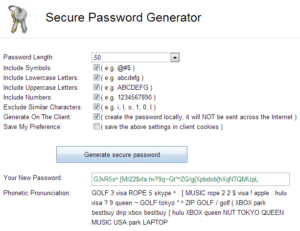 But it,s not easy for you to remember long passwords. Use LastPass password manager to remember passwords. check my article How to protect your passwords with LastPass
Now open https://howsecureismypassword.net/ to check the password security of your password.
Hope you like my post.Stop Your Friends Infecting You On Facebook. Please Share with others.