Maybe you've been thinking about making the leap to satellite television, but you just aren't sure what to expect. For instance, do you want to go with DirecTV or DISH? These are the two big satellite companies that you can choose from.
Both have their advantages, but we think that DISH is the way to go and there are many reasons for this. However, we think that there's one very powerful reason that DISH outshines the competition. That reason? DISH's Hopper 3 DVR. It is a very powerful component of DISH's service. People who love TV will get so much more out of DISH because of this box. Let's look at the reasons why.
DISH calls the Hopper 3 the world's most powerful DVR and this is because they have designed a DVR that really seems to understand the user and it makes complicated things easy.
For instance, are you tired of hunting for the remote? It could be in your couch cushion, under a pillow, or maybe you spaced out and left it on the kitchen table. With Hopper, all you have to do is press a button on the DVR and your remote will beep and blink so that you know exactly where it is in an instant.
And speaking of making things easy, how about a voice remote? Hopper has that too. As more and more users use tools like Amazon's Alexa, they get used to using their voice to make everything much easier. Just use your voice to do things like browse the channel guide, search for movies, record programs, and access Netflix and On-Demand shows.
So what about commercials? We all hate them and would rather watch our content uninterrupted. Well, you'll be happy to know that AutoHop will let you instantly skip all the commercials in select primetime recordings. You get all of the entertainment you want with none of the stuff you don't. That's pretty sweet. But that's not all that the Hopper can do.
Most DVRs can only do a limited amount of things and that's always a problem because you have a family. People want to record things at the same time or watch multiple shows at once. The good news is that the Hopper 3 solves all of those problems. It allows you to record up to 16 shows at once which is twice the amount of the competition. And those recording conflicts? They are a thing of the past. Feel free to watch multiple shows during primetime, or watch different sports games at the same time. It's all good.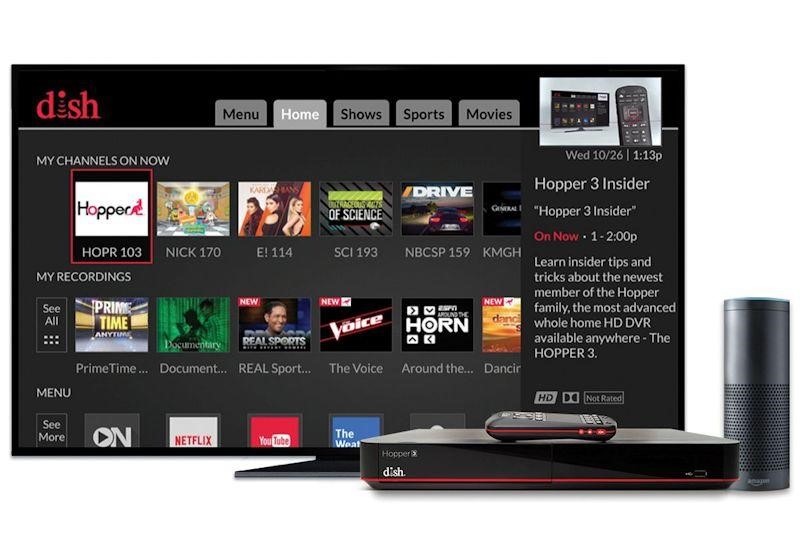 You get 2000 hours of recording so you won't have to delete shows you haven't seen yet in order to record other shows. That's TV without any sacrifices. Do you have a family of sports fans that like different teams? That's easily solved since you can choose four channels to watch simultaneously.
Essentially what Hopper does is turn any TV into a smart TV, giving you access to built-in apps Netflix, youtube, Pandora and more. It meets all of your entertainment needs in one place.
Now, even though your TV is in your home, you aren't always in your home. But that's no reason to miss out on all of the action. Since DISH lets you watch all of your live and recorded TV on any device, you get to take all of this with you on the go. Watch on your PC at work, your tablet, or your smartphone.
So you can see the kind of power that the Hopper DVR offers and this is the heart and soul of DISH. And this is why it easily ranks as the best satellite TV provider out there right now. The competition just can't touch these features at the moment.  Plus it is very affordable.