How to Change Hostname in KaliLinux :-
By default, Kali Linux comes with the hostname [email protected]. However when you are installing kalilinux with iso image file you have the option to change the hostname. but in the case of vmware imgae file, it,s not giving you installation option.
Today i am going to show you How to Change Hostname in KaliLinux ?
Click on Application > Accessories > Select Leafpad
After opening leafpad click the file then open , click on the File system > etc 
Find the hostname and click on open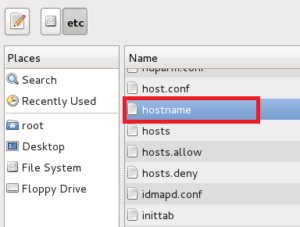 Now change the name Kali to your desired hostname
and save it and restart your kali machine. Now you hostname is changed.
If you want to use the command line then use this commands
Open the terminal and type [email protected]:~# cd /etc and hit enter
then type [email protected]:/etc# leafpad hostname and hit enter
Leafpad will show your present hostname just replace it in your new hostname and save it
Enjoy your Own Hostname in kali.
Hope you like my post. Please Share with others.