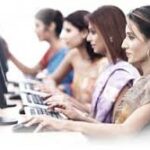 How to Create Data Entry Form in Excel :-
Data entry is the act of transcribing some form of information into another medium, usually through input into a computer program. Forms of data that people might transcribe include handwritten documents, information off spreadsheets, and sequences of numbers, as well as computer code and even names and addresses.
Excel is really powerful program to manage your data.Today i am going to show you How to Create Data Entry Form in Excel ?
Open new Excel sheet and enter your required field that you want in your Data Entry Form
Now select your all field and click on the Insert Option and select the Create table option and in the create table option check the "My table has headers" option and click on OK.
By default Form field is not included in the ribbon, so you need to add form field.
Go to File > Option > Select the Customize Ribbon option > In the Choose commands from select the "Commands Not in the Ribbon " > select the Form > Click on Add option.
it will gives you error about Ribbon Customization and Click on OK.
now Click on the New Tab and select the Form field and click on the add option. Also rename the New Group to Data Entry.
now Select the Form field and click on the Rename tab to choose your symbol
now your Data Entry tab is available in your office ribbon tab. Now click on the Form option
Now enter your data entry values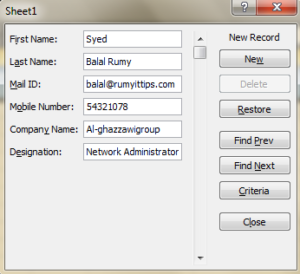 Now your data Entry form in excel is ready to use
Hope you like my post.How to Create Data Entry Form in Excel. Please Share with others.