How to Bypass Website Survey ?
Sometime when you try to download some software it, s showing quick survey to complete before download. and there is no close button to close these annoying survey.
Today i am going to show you How to Bypass Survey ?
Method 1 :- Go to http://surveybypass.com/ 
and enter the URL of the website that's asking the site survey. Now you have the options to download it.
Method 2 :- Disable Javascript on Web-Browsers
Disabling Javascript on Web-Browsers will make surveys never appear:
In Google Chrome:
(1) Click on Settings' Wrench on the top right of Google Chrome.
(2) Click Options.
(3) Scroll down, and Click Advanced system Settings
(4) Click on Content Settings to show options of Google Chrome web page content.
(5) Under Javascript section check the box: Do not allow any site to run Javascript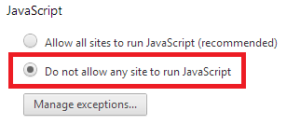 (6) Done! Now just go the website that asks for surveys and you'll bypass them.
Method 3 :- 
(1) When you are prompted to take a survey, Right Click the title and Click Inspect Element
(2) Now keep pressing Delete button to delete scripts on Inspect Element tab, until Complete a Survey disappear
(3) After the bar disappear, keep deleting until the Page go lighter (whiten) with no dark area.
(4) Done! Now you'll see your full content or download on Sharecash.
Method 4 :- Use Sandboxie
First you read this article How To Test Unsafe Applications On Your PC .
Now Open browser with survey download link .Choose Email submit suvery and fill fake information Or Choose Install survey from list.
Now Right click on file you downloaded and run as Sandboxie. Click Ok and give permission administrator .
You get installer in sandboxie of 3rd part software. Just follow all step and click agree and download it automatically and install is begin . Wait til all download and install not complete.
When all install completed you download open
Your file is unlocked and its start downloading
Now open sandboxie via clicking on icon in right hand side and clear all data you installed for complete survey
Hope you like my post.How to Bypass Website Survey. Please Share with others.