How to remove write protection from a USB flash drive :-
Have you faced the situation of write protection in your office PC ? I really faced this situation in my new office laptop provided by my organization. 🙁  Actually, organizations are always disabling the USB protection on their PC to provide PC protection.
Today i am going to Show you how to remove the Write protection on USB drive implemented by the Windows group Policy.
With Windows Server 2008 & Windows 7, Microsoft comes with a new feature of implementing policy on Removable Storage. Actually whenever we are applying group policy, it's changing the registry value.
To remove the USB protection, open the Registry editor ( Run > regedit) and navigate to
HKEY_LOCAL_MACHINE \ Software \ Policies \ Microsoft \ Windows \ Removable Storage Devices
double-click on each value and change Deny_Write and Deny_Read value to 1 to 0.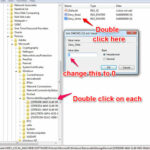 Now navigate to C:\Windows\ INF . Search for "USBTOR" and right-click on it select properties option and click on the Security tab and make sure you have Allow permission to your user or everyone.
Now reboot your PC. Now your USB device is working. 🙂
If it's still not working then navigate to
HKEY_LOCAL_MACHINE\SYSTEM\CurrentControlSet\Services\UsbStor
in the right-pane, double-click on the Start value and change this value to 3 .
Also Check :-
Find Out Which USB Devices Have Been Used on Your PC
How to Create a Bootable DOS USB Drive
How to Unlock 3G or 4G or USB Dongles
How to remove write protection from a USB flash drive
How To Make Usb Drive Bootable From iso Image
Copy Pen Drive Data Automatically in PC – Stealth Mode