Search Multiple Torrent Engines At Once :-
Torrent is one of the most popular method of file sharing over internet.However it,s very hectic to search each torrent sites for your favorite software or movies.
Today i am going to show you How you can search multiple torrent engine at once with free available tools and online services.
1. Use Bit Che Tool :-
A small utility designed to make out of torrent searching an extremely easy and effortless task. The whole application relies on simplicity, starting with installation and ending with its interface.
The setup process takes only a few seconds and requires small efforts on the user end. The interface is very clean and user friendly, built with menus to help you easily navigate through its commands.
Like if you want to search Adobe Photoshop, just enter the photoshop. it will show you available seeds , leaches and source website.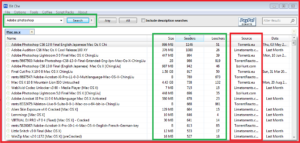 right-click on the torrent file and select the option " Open Torrent " and download your torrent file.
2. Use Torrent Search Tool :-
Torrent Search is a handy program specially designed to enable you to search for torrent files on different websites.
Supported websites are integrated through plugins, which allows to easily extend the number of websites supported.
3. Use TorrentPond.com
The torrent search engine that allows you to search all of the best torrent sites from one … SeedPeer; SumoTorrent; MisterTorrentNEW; IsoHunt; The Pirate Bay and more.
4. Torrent Search :: Torrent Finder :: Torrent Search Engine
Torrent Finder is a Bit Torrent Multi Search Engine which searches 129 torrent sites and trackers from one page, Write your torrent Keywords then Check on your favorite torrent sites and trackers to start your search.
5. Use torrent-scan.org :-
TorrentScan is a metasearch engine for torrents, with one difference: you can customize TorrentScan to look for torrents in only the sites that you specify (which is certainly a very convenient feature). If you can't find what you're looking for using one collection of torrent sites, simply redo the site with different sources; easy and quick, and from one convenient location.
Enjoy this multi torrent search engine tool and services. If you know the others services or tool. please pass the comment.
Also Check :-
How to Spot Fake Torrent Files
How to Install BitTorrent in Kali Linux
How to Create and Share Torrent With Utorrent Client
How to Increase Torrent Speed Upto 50%
https://youtu.be/j4cPdEXojKo
Hope you like my post.Search Multiple Torrent Engines At Once. Please Share with others.