How To Troubleshoot SIC-related Issues in Checkpoint GAIA:-
SIC or Secure Internal Communication is how communicating components authenticate between themselves and the Security Management Server. When successfully authenticated, communication between these components is secure.
This Check Point feature ensures that these modules can communicate freely and securely using a simple communication
initialization process,
The following security measures are taken to ensure the safety of SIC:-
Certificates for authentication
Standards-based SSL Certificates for the creation of the secure channel
3DES for encryption
Almost everytime SIC issues are due to :-
1. mismatch in activation key or
2. sic ports being blocked
Today i am going to show you, How to troubleshoot mismatch SIC?
To do so login in to Firewall CLI by using Putty or any terminal emulator software.
To view SIC status enter the Fw > cp_conf sic status command.
As you seen in below image, My SIC status is Trust established.
But for this article, i am going to re-established. to do so enter the cpconfig command and choose the option number 5.
now enter Y for re-initialization and enter your activation key here.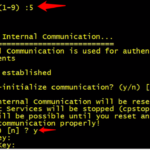 then enter 9 to exit from this session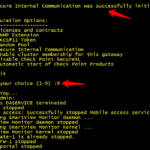 if you issue cp_conf sic status , it will show you trust un-established here.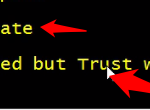 now open your Smart Dashboard, Open Your Firewall gateway properties, In the general properties , Click on the Test SIC status.
it will give your Not communication error.
then click on the Communication tab and click on the Reset option
and enter your same authentication key here and click on the Initialize option to initilize your SIC again.
Now again click on the Test SIC status option again. it will show you your SIC is communicating now. 🙂
Now if you issue cp_conf sic status in CLI mode ,
Hope you like my post.How To Troubleshoot SIC-related Issues in Checkpoint GAIA. Please Share with others.
Also Check :-
Block a list of URL address in your network with Checkpoint GAIA
Block Torrent traffic on Your Network with Checkpoint GAIA Firewall
How to install checkpoint gaia on vmware
Secure your network for Most common Attacks with Checkpoint Firewall
How to Fix the TCP packet out of State in Checkpoint Firewall
How to enable Rate limiting for Streaming media in Checkpoint GAIA