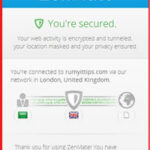 1-Click Browser Security – Surf the Web encrypted with ZenMate :-
The Internet is a great place with many possibilities. Unfortunately it's not the safe place any more that it used to be. Unpleasant surprises from hackers, spying internet service providers, restrictive governments, I.D. thieves, and viruses are often "just around the corner" and users are unprotected, without even knowing it.
With Zenmate, Your Internet connection is highly encrypted and redirected via the ZenMate cloud where our encryption- & acceleration software is installed. To deliver you maximum speed and utmost uptime senmate only rented servers from the most reliable and trustworthy hosting providers around the world. This great choice allows you to choose the location you need to get protection as well as a free, unrestricted and private Internet experience.
Zenmate is the only one browser extension, that are providing SSL encrypted traffic .
Download Google chrome browser extension.
Now you have the option to change your location.
it,s currently free and providing the high speed servers in the five country. You can easily switch to other country location. Your IP is always hidden and your privacy will be protected with ZenMate.
Enjoy free VPN service with Zenmate.
Also Check :- 
Encrypt your Live Chat with Cryptocat
How to encrypt your cloud storage for free
Send notes that will self-destruct after being read
How to Stop Trackers From Tracking You Online
How to always start Google chrome in Private browsing mode
Hide your Real IP Location and Browse Anonymously
Encrypt Your Web Browsing with HTTPS Everywhere
How to Encrypt Your Email with Mailvelope
How to Browse Anonymously With Tor
How Hackers Gain Access To Your Computer
How To Test Unsafe Applications On Your PC
Hope you like my post.1-Click Browser Security – Surf the Web encrypted with ZenMate. Please Share with others.