Download new Facebook Photos you are tagged in to Dropbox :-
Dropbox is one of the most used and effective file sharing cloud storage services on the internet. Personally i am using Dropbox to share my files between my office PC , my Laptop and my mobile. Dropbox gives me flexibility to work from any device with file accessibility. In my previous articles i wrote about How to Backup WordPress Sites to Dropbox and Print Files From Anywhere via Any Device With Dropbox.
Today i am going to show you  How to Download new Facebook Photos you are tagged in to Dropbox .
There is third party services named  If This Then That (IFTTT). IFTTT is a free web service that enables you to connect different applications like Dropbox, Facebook, Evernote, Linkedin, etc and work with them on "if this then that" basis. It supports 75 web applications and cover all the popular ones. The "this" in the "If This Then That" is called the trigger which is the condition that need to be fulfilled, and "that" is the action that will be completed.
First you need to be join IFTTT services. Navigate to https://ifttt.com/ and create one account with your Email address.
For integrating two different services you have to create recipes in ifttt.
Click on the browse and search for " Facebook to Dropbox " and click on the found  recipes.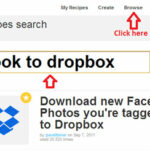 Now you need to be activate both Facebook and Dropbox channel. Click on Activate and provide your Facebook and Dropbox credentials and allow the app to access your both accounts. and Click on the Use recipes to use this recipes.
now my recipes is ready to work. now when i tagged in any Facebook image it will download that image to my Dropbox account automatically. it,s checking for new updates after each 15 minutes.
For this article, todayi uploaded my some images on my Facebook account and i tagged my self. after 15 minutes i found my all pictures in my Dropbox folder with the name of IFTTT with all your facebook tagged images. 🙂
in your Dropbox/Dropbox/Facebook  folder.
Enjoy your tagged image backup with Dropbox.
In IFTTT , Check for " Gmail to Dropbox " , "Evernote to Dropbox" or " WordPress to DropBox".
With IETFF, really internet will work for you. 🙂
Also Check :-
How to encrypt your cloud storage for free
How to Encrypt Cloud Storage on Linux with EncFS
How to backup your Android phone to the cloud
Download any file from any site with File2HD
How to Install Dropbox on Linux System