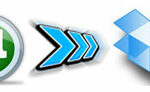 How to Download torrent directly to Dropbox :-
Dropbox is a home for all your photos, docs, videos, and files. Anything you add to Dropbox will automatically show up on all your computers, phones and even the Dropbox website — so you can access your stuff from anywhere.
Dropbox also makes it super easy to share with others, whether you're a student or professional, parent or grandparent. Even if you accidentally spill a latte on your laptop, have no fear! Relax knowing that your stuff is safe in Dropbox and will never be lost.
http://www.youtube.com/watch?v=OFb0NaeRmdg
Torrent is one of the most used file sharing program on the internet. Personally I am using torrent for downloading movies. Have you ever think about downloading your torrent file in Dropbox? It's really cool idea to download torrent in Dropbox because with Dropbox your downloaded file will synchronize between multiple devices used by you. 🙂
Today I am going to show you How to download torrent directly to Dropbox ?
Open your uTorrent client and click on the options > Preferences.
Now click on the Directories > Now here you have the option " Automatically load torrents from : " here you have to provide your Dropbox folder location path.
As you seen in below image i provided path to my Dropbox folder and i created a folder named Torrent for my torrent download. 🙂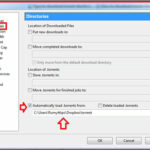 Now your torrent file will be download automatically in your Dropbox folder. 🙂
Also Check :-
How to encrypt your cloud storage for free
How to Encrypt Cloud Storage on Linux with EncFS
How to Install Dropbox on Linux System
Download new Facebook Photos you are tagged in to Dropbox
Print Files From Anywhere via Any Device With Dropbox
Search Multiple Torrent Engines At Once
How to Spot Fake Torrent Files
How to Download Torrent Files with IDM
How to Create and Share Torrent With Utorrent Client